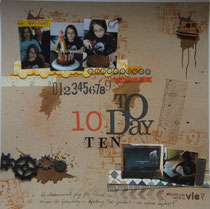 Yes another LO for a challenge blog. This is for Scrap our Stash, and as I have a lot of stash I thought this is perfect for me :). As the next birthday of my son is due very soon, I had to scrap the pictures of last year. And it was ever so special for him as he got his own laptop and was over the moon.
Ja eine Challenge hab ich noch gefunden. Scrap our Stash ist wie für mich geschaffen, ein wenig Material zum aufarbeiten habe ich ja :).
Nachdem der nächste Geburtstag schon wieder vor der Tür steht, habe ich hier noch schnell die Bilder vom letztem Jahr verarbeitet. Ein großes Ereignis, da mein Sohn seinen langersehnten eigenen Laptop bekommen hat.